Teaching for Change Presents and Learns at the Schomburg Center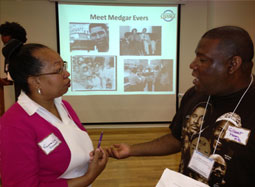 On Monday, July 15, with many hearts still reeling from the announcement of George Zimmerman's acquittal after killing unarmed African American teenager Trayvon Martin, Dr. Khalil Gibran Muhammad and Dr. Ernest Morrell addressed dozens of educators in the Schomburg Center for Research in Black Culture's Black History 360° Summer Institute. Muhammad and Morrell invited teachers to place the Zimmerman case within a larger historical context and education narrative.
Read the paraphrased remarks and reflections made by Muhammad and Morrell from their conversation titled Critical Literacies: Socially, Culturally, Technologically Relevant Education at Teaching For Change.